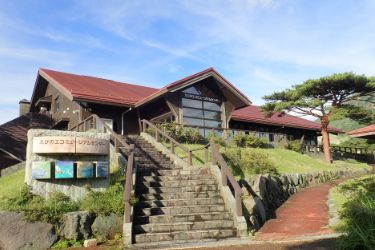 Ebino Eco Museum Center serves as the visitor center for Kirishima-Kinkowan National Park and Kirishima Geopark. It is located on the Ebino Plateau, on the slopes of Mt. Karakuni at an elevation of 1200 meters.
The nature, history, hiking and climbing opportunities of the Kirishima area are presented in panel displays, video and mounted specimens.
Drop by the eco-friendly hub of the Kirishima area if you would like to check up on the kinds of species you will encounter in the field before setting out to hike or explore nature, or if you are seeking more information during a day out in the car.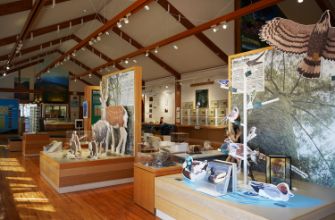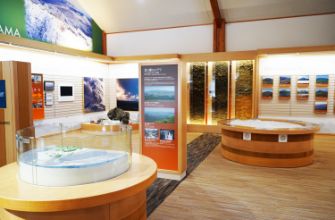 01

LECTURE

Upon request, bookings accepted

If you would like a guided tour of the museum (available upon request), please contact our staff. Includes pre-departure lectures for hiking groups (booking required), briefings on trails, seasonal or current highlights, etc. For training and tours (booking required), analysis of the Kirishima environment will be provided.

02

NATURE OBSERVATION

Booking required

Nature observation walks are organized in each season.

03

SLIDE SHOW

Upon request, bookings accepted

The mountain-climbing and nature, flowers, deer etc. of the Kirishima region will be introduced here.

04

EVENT

Upon request, bookings accepted

A range of other events are also held.
Enquire here about our experience programs and events. Not all requests can be accommodated. Thank you for your understanding.
Opening hours

Open daily 365 days
am 9:00 - pm 5:00
Free entry
ADDRESS

889-4302
1495-5,Suenaga,Ebino Shi,Miyazaki Ken,Japan-5
Google Maps
Facilities

1 x wheelchairs
Barrier-free (in museum, carpark)
Free Wi-Fi
Application for use

You must apply if you wish to secure exclusive use of the museum facility. Simply download the application form from the link below and return by fax.
Download application form
Access from airports

1h 30 by car from Miyazaki Bougainvillea Airport (via expressway)
1h from Kagoshima Airport (via expressway)

Please check fares and schedules with public transport providers.
Access by rail

1h from Kagoshima Chuo Station to JR Kirishima Jingu Station
1h from Miyazaki Station to JR Kirishima Jingu Station
30 mins by bus from Kirishima Jingu Station to Maruo
Access from Expressway interchanges

From Miyazaki City: 45 mins by car from Kobayashi IC
From Kagoshima City: 1h 20 by car from Kagoshima IC
From Kumamoto City: 40 mins by car from Ebino IC
Access by the Kirishima area Tour Bus

30 mins from Maruo to Ebino Plateau
Please check the timetable on the following website.

Kirishima City website: the Kirishima area Tour Bus